October's weather was beautiful, just like my Colombian soccer T-shirt I was wearing and the faboulous day we spent at Epcot. Sadly, part of my family had to leave and only some of us stayed. As soon as we arrived in the park, I captured a photograph with Mickey and Goofy! I was a child all over again. They have them pose from the distance, but I love how they are there for you to capture that memorable photo. I was on a mission to find the COLOMBIAN pavilion at Epcot, and sadly I could not find it! jajajja! They have many countries but we COLOMBIANS are not included, so you will have to actually go to Colombia to experience my culture! Believe me, it IS WORTH IT! Today, I have some many things that I can share with you of doing at EPCOT but I will just share a few basic ones that will make you trip a total success and one to remember:
MUST BRING A PROFESSIONAL CAMARA
Epcot is just faboulous for pictures. I love taking photos and I think you know this by now, so we love doing this special photoshoot in front of the Spaceship Earth during the day when we arrive and before we left. It was just spectacular. These are the images you will talk about and show your family from your trip. By the way, I strongly recommend the ride inside this geodesic sphere, it takes you down to memory lane which amazes me as it makes me remember how far we have come as a society. If you have been In this ride, you probably appreciate your smartphone more than ever. Once again, take lots of photos! Cheesseeee!!!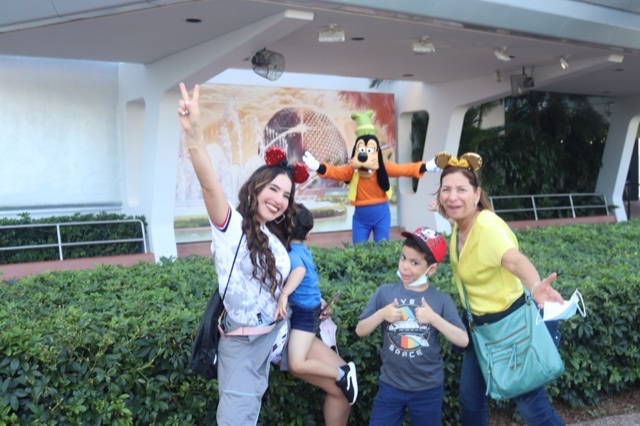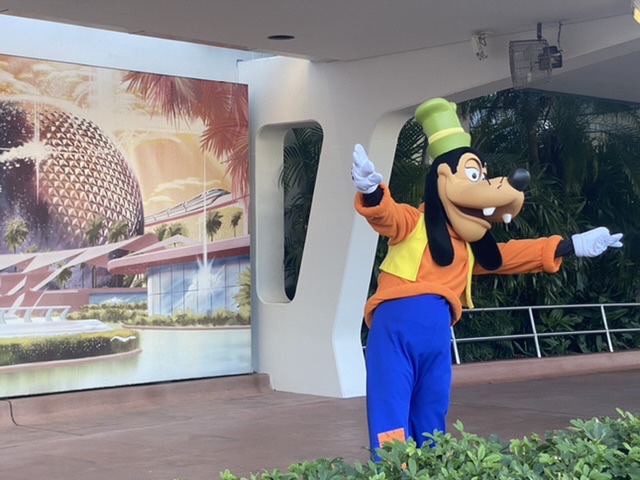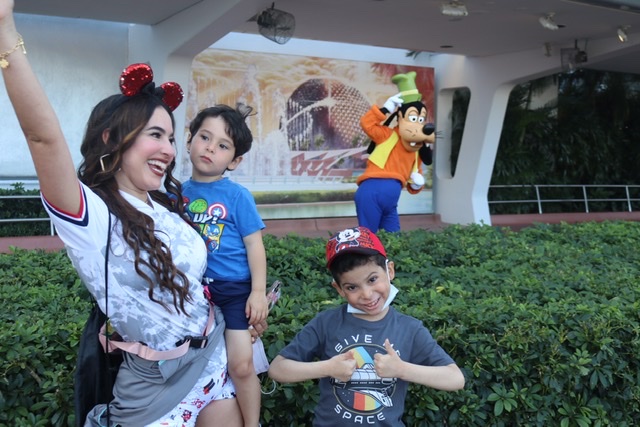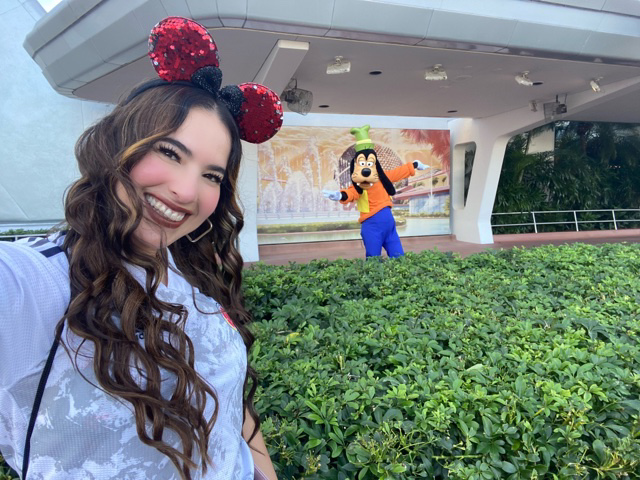 MUST RIDE RATATOUILLE AND EAT CREPES
We could not do too many rides but we def did Ratatouille and it was a really cool 3D experience. One of my favorite rides for sure and just so real. I sat down Carlitos in the chair and I believe at one moment he was scared, and I could see his little brain trying to process the information. Perhaps it was a little too much for a 3-year-old. I was watching him closely while everything was moving super fast, so I tried to talk over the entire experience so he did not feel lost but yet I recommend waiting until your child is 4 years old at least to do something like this. It is worth mentioning after the ride we were super hungry and we wanted to taste the delicious crepes in the France pavilion, so they are my super recommendation for the day. I had the salty crepes of cheese and the sweet ones with chocolate and strawberry. If you are a French culture lover, you must enjoy this delicious treat!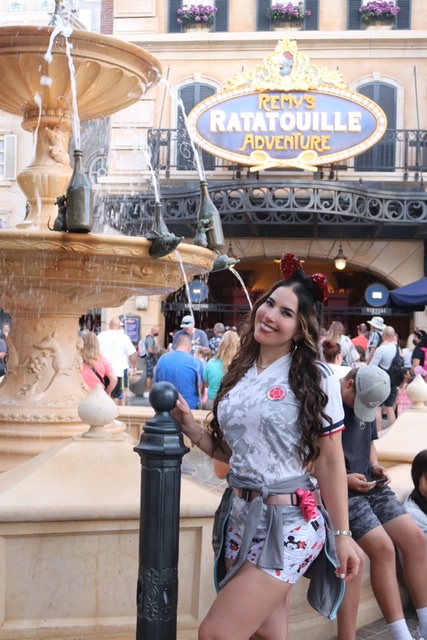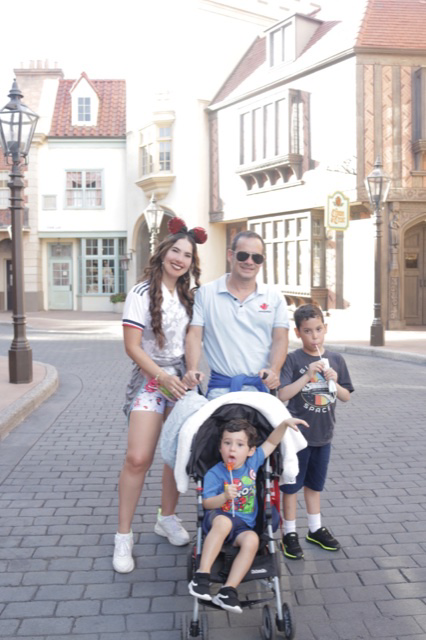 MUST WATCH THE FIREWORKS
We wanted to witness this magnificent event, so I was looking up online and there were several good spots they mentioned such as the American, Canadian, and Japanese Pavilions. We heard the Mexican pavilion also had one of the best views and if you make the reservation well in advance you can get seated in their nice restaurant. We obviously did not make any reservation, but we were able to arrive one hour earlier and find good seats in front of the Mexican Pavilion. I will recommend more like 90 minutes in advance to find the best spot and enjoy the best 15 min of fireworks extravaganza. We brought blankets and rented a double car seat which cost about $35. You can save this money if you bring your own stroller car and I believe it is worth it, so you can put your stuff and if you have children even as old as 7-year-old, they can also seat and relax. The fireworks start at 9:45PM, so they are pretty late and past Carlito's bed time, so you need to bring all your tools to pull it off if you have children.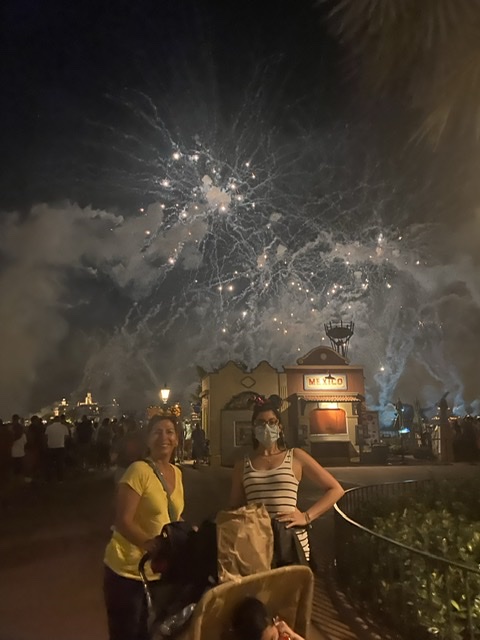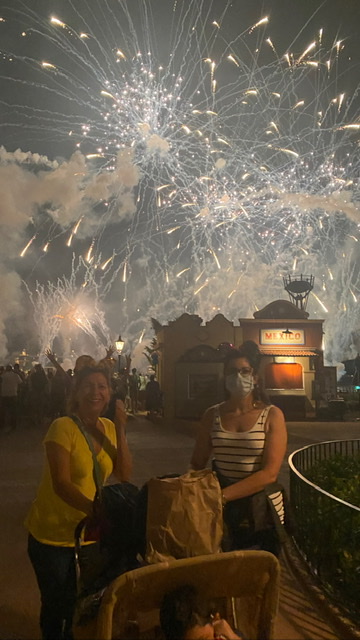 MUST ENJOY THE LITTLE MOMENTS
We missed so so so many things. There is just so much to do that is hard to do it all. Specially once you have little one. I read about Carlito's development for his age and it says that he is exploring the world literally with his senses. It is not surprising to see him having so much fun playing with just water. I really loved this stop in the park where he was just having fun getting wet and seeing the water fountain effects. My nephew Thomas joined him and to say the least they had a blast and that was their highlight of the day. They did not enjoy the fireworks at all and actually Carlito's was too tired and wanted to go home. It is important to note that as adults we want to do so much but it has to be age and time appropriate for our children. I believe they get cranky, tired and very uncomfortable when we are changing their routines, so we can do this type of activity. I am glad that we were prepared and thought of everything Carlitos could need to keep him calm, cool and collected.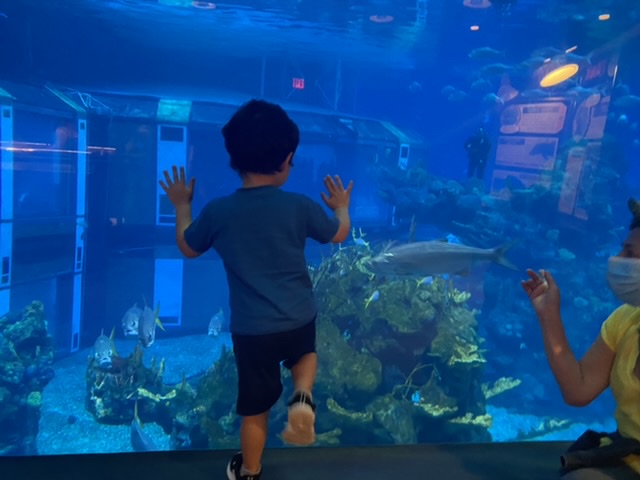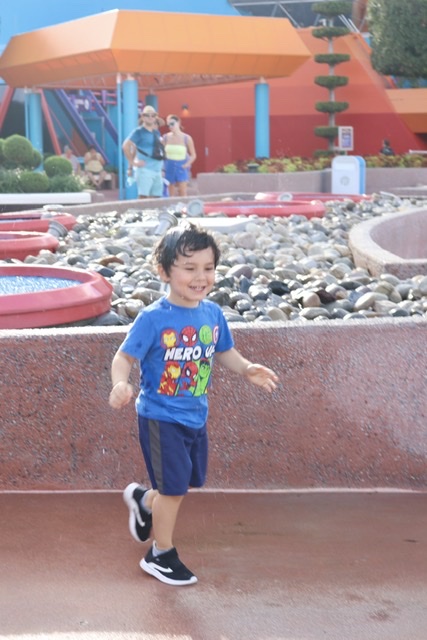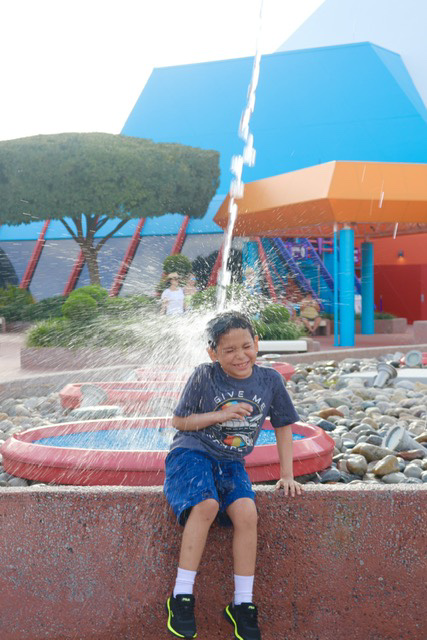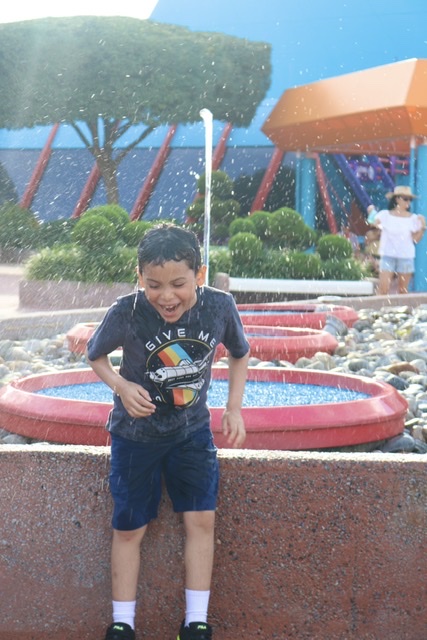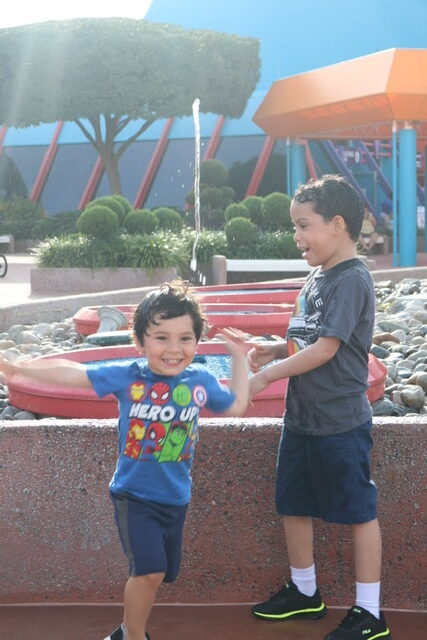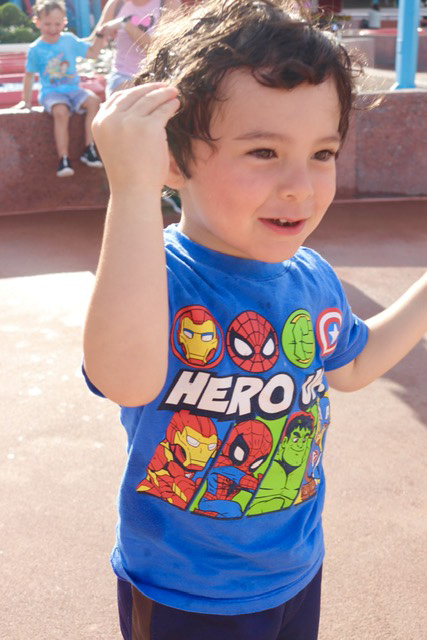 It was the first time for my mom, nephew and my sister in law and it was just nice to share these moments with them, we missed the rest of the family, but I am just grateful we could enjoy this experience together.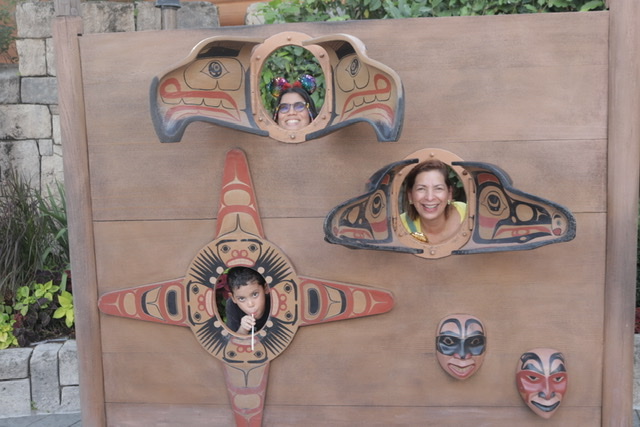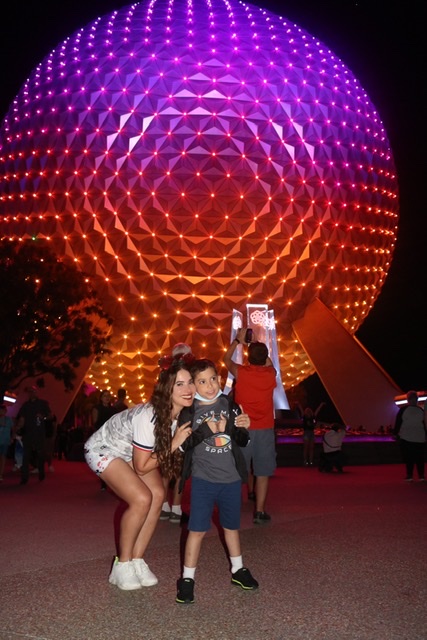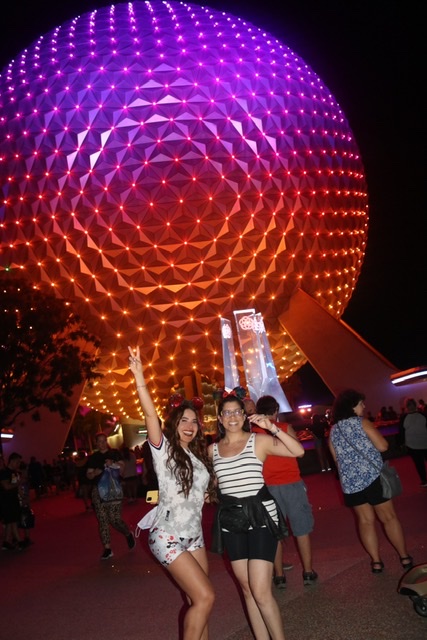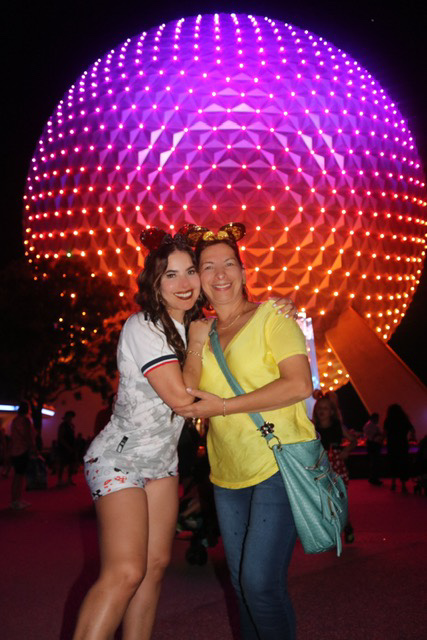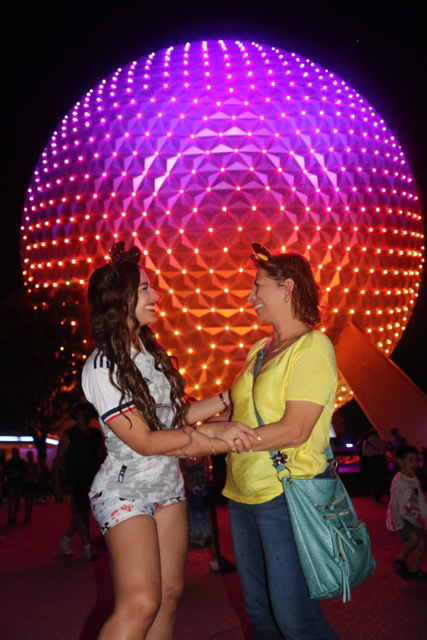 With that say, those are my two cents of advice for the day.  Hope to you see you again soon! Thanks for reading the words of this proud Colombian living in Washington, DC.
Las y los amo!
Xoxo,
Stefani Gamboa